<![CDATA[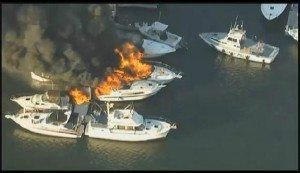 – Quincy News from Quincy Quarry News
Quincy marina hit with catastrophic boat fires.
A clear and quiet sunny fall sunrise along the Quincy waterfront was upset by a multiple boats fire in the Captain's Cove Marina.
The fire rated multiple alarms as well as a call for mutual aid assistance from the Boston Fire Department, with at least its Ladder Company 7 ladder truck rolling into the Q with its siren blaring.

At least 5 boats were look to be total losses, with collateral heat damage to other vessels yet to be discerned.
Fortunately, the end of the boating season is near as well, not to mention that this story presents a golden opportunity for local television stations to cover a boat fire story today instead of their usual daily house fire of the day coverage.
Unfortunately, the morning commute along Route 3A in the Quincy Point area was backed up given rubbernecking by commuters as well as from to be expected disruptions caused by responding first responders and their equipment.
For additional video, check out
the source video
for Quincy Quarry's news coverage from its news joint coverage friends at Fox 25 News.
Also, as this is a still yet another breaking badly local bad news story, check back for possible further Quincy Quarry coverage.
In the meanwhile, the Quarry has dispatched a crew to what's left of also fire-ravaged City Hall for a widely suspected press conference photo op.
Reliable leaks in City of Hall have surreptitiously sent word to the Quarry that embattled incumbent Quincy Mayor Thomas P. Koch might soon be announcing that the City must pursue adding a multi-million dollar fire boat to the City of Quincy Police Department paramilitary navy in spite of it considerable as well as problematic past history for
showing up late when tragedy strikes
.
QQ disclaimer
]]>