<![CDATA[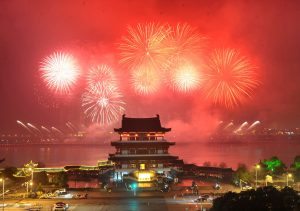 – New Year's news and commentary by Quincy Quarry News
Quincy Quarry wishes Quincy Gong Xi Fa Cai!
While it is a bit early to celebrate the Chinese Lunar New Year, Quincy Quarry would like to be ahead of the curve for a change.
That and be culturally sensitive.
Quincy Quarry has only just learned that the traditional Western use of Gung Hey Fat Choy when speaking of the Chinese New Year is not what is commonly used in China. 
This phrase is also often negatively viewed as it harkens back to the days of imperialist control of much of China by foreign powers.
Think in terms of how many Mexican nationals view Americans celebrating Cinco de Mayo, only worse.
As Quincy Quarry carries no water for Quincy's local despot or any other despots, neither does it conversely care to cause any undue discomfort to a large number of Quincy residents undeserving of any such discomfort.
恭禧發財 !!!
]]>