<![CDATA[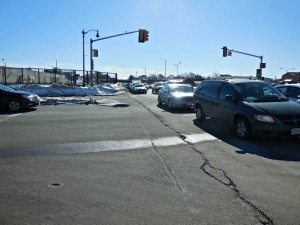 – News about Quincy MA from Quincy Quarry News
Quincy snow removal shortcomings bring traffic to a near standstill.
On a sunny and pleasant Saturday when area residents thought that they could finally go out for an uneventful drive, things quickly ground to a near halt for them.
Snow removal contractors endeavoring to clear the northbound lane of Burgin Parkway apparently broke the fence separating the street from the adjacent MBTA traffics.

Amazing, while traffic was all but stopped, the T wasn't – and thus yet again reinforcing the argument that the
City of Quincy's response to this year's winter storms is making the MBTA look not quite so bad
in comparison.
Also fortunate for the workers working this latest Q-up, the Commuter Rail track was the closest track to the Q-up and thus at least somewhat distance from the dangerous third rails running between next two sets of tracks dedicated to use by the Red Line.
Perhaps the most amazingly thing of all, however, is that this damaged fence is not a privately owned fence and as has typically been the case all over Quincy given the City's reliance on
outside contractors, who – in turn – rely on non-local workers with little to no familiarity with the increasingly mean streets of the Q
.
No projections as to when this publicly-owned fence might be repaired, much less when the snow-covered breakdown lane along Burgin Parkway northbound might ever perhaps finally be cleared of snow before the July thaw.
In the meanwhile, Coffee Brake is catering things for those workers standing around pondering what to do to undo this latest Q-up in the Q.
Similarly, no tweets from the lead twit in City Hall or any other sorts of bogus spin have been promulgated warning locals of this latest breakdown along a major street in Quincy care of lingering snow issues two weeks after the last truly significant local snowfall.
Fortunately for Quincy Quarry readers, the Quarry is all over this latest story of Q-ing up in the Q.
Unfortunately for Quincy residents, however, the Quarry does not expect this to be the last Q-up; in fact, probably not even close to the end.
QQ disclaimer
]]>