<![CDATA[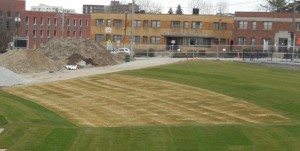 – News about Quincy MA from Quincy Quarry News
Quincy High School's expected to be named Koch Parcourse appears to not only be running months behind schedule, it now clearly appears that massive expanses of its turf have failed to flourish and so expired.
The long ongoing sodding at this project at just about every turn has utterly gobsmacked all manner of private construction and landscaping expertise who know better than to work for the City of Quincy.

For example,
aggressively pouring concrete during the cold time of the year in New England
 at this construction site as well as inexplicably what appear to be plans to pour even more.
Similarly, no city official has offered any recent updates as when this running late project might perhaps possibly be completed.

]]>