<![CDATA[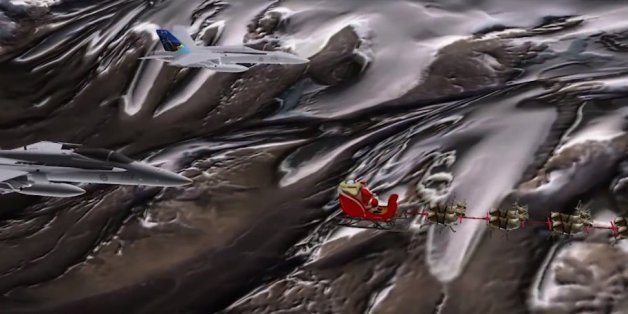 – News from elsewhere covered by Quincy Quarry News with commentary added.
NORAD under fire for its famous Santa Tracker program.
Military personnel stationed at the joint Canadian and United Stater North American Aerospace Defense Command ("NORAD") yet again entertained millions of kids on Christmas Eve with second-by-second updates on Santa's global whereabouts.
The NORAD Tracks Santa holiday program dates back to 1955.
But there's something new this year: public criticism.
Boston-based Campaign for a Commercial Free Childhood said a NORAD Tracks Santa the video brings violence and militarism to a beloved tradition.
Blogs and Twitter lit up with volleys of often flaming posts from both sides and mostly over an animated video on the NORAD Tracks Santa website that shows fighter jets escorting Santa's sleigh.
United States Navy Captain Jeff Davis, a NORAD spokesman, said he understands the critics' point of view but disagrees.
"We really do feel strongly that it's something that is safe and non-threatening, and not something that would negatively impact children," he said.
"In fact, we think that it's a lot of fun."
Captain Davis said the fighter escort is nothing new. 
NORAD began depicting jets accompanying Santa and his reindeer in the 1960's said Davis. 
Captain Davis further noted that the aircraft in the video are unarmed: they are Canadian Air Force CF-18s, with a large external fuel tank under their fuselages that might look like a bomb but the jets' wing racks that can carry bombs or missiles are empty.
It's a rare swipe at the popular program, which last year attracted a record 22.3 million unique visitors from around the world to its website.
Conversely, the organization behind the furor claims that essentially the whole Megillah was all but fake news.
Josh Golin, the coalition's associate director, reiterated his criticism in an interview with The Associated Press – but he called the brouhaha "a media-manufactured controversy."
Said Golin, "The coalition hadn't known about the fighter jet video until reporters called."
]]>