<![CDATA[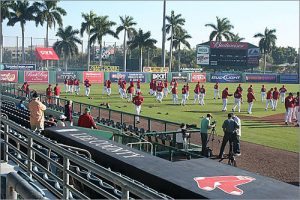 – News and commentary from Quincy Quarry News
Quincy Quarry Weekly Fish Wrap:  Thank God for Spring Training!
While sign of spring are starting to show themselves, so too are all manner of disconcerting other things.
For example, on all levels of government this week, there are points of at least curiosity – if not also deeply troubling concerns.
For starters, it appears that even the Russian media appear to be turning against President Trump.
And on the state level, the Massachusetts Attorney General has announced that she will recuse herself from leading investigations and the widely expected eventual sanctioning and prosecutions of parties tied to the scandal-laden Thornton Law Firm.
The ultimate reason: the Attorney General has received at least $9,000.00 in campaign donations from parties variously tied to The Thornton Law Firm and it is widely assumed that much of the many millions in campaign donations made by Thornton associates to mostly Democratic candidate and Democratic party political action committees were illegal straw contributions.
And speaking of straw contributions, Quincy Mayor and arguable DINO Thomas P. Koch has also received at least $3,000.00 in campaign donations from parties tied the scandal-plagued Thornton Law Firm; however, unlike many politicians who have already scurried for cover as well as opted to disgorge suspect donations from Thornton, so far there has no word from Mayor Koch as to whether – or most likely not – he intends to voluntarily disgorge his Thornton Law-related campaign fund receipts.
After all, one can only assume that such is only proper to expect given the fact that Mayor Thomas P. Koch has already been formally named as a recipient of straw campaign contribution in five of the eleven illegal "direct source" cases administratively adjudicated by the Massachusetts Office of Campaign and Political Finance in recent years and is thus by far the most often so exposéd illegal straw campaign donation recipient.
But all is not bad news.
For example, this week Quincy Quarry published a feature on how the City of Quincy appears to have actually completed one of its major projects as well as probably even did so close to on schedule: a comprehensive replacement of underground utilities, street pavement and the sidewalks along a short run of the also short Newbury Avenue in North Quincy.
That and how surely it was but a coincidence that Quincy's Mayor Koch just happens to live on this expensively renovated run of Newbury Avenue.
Finally, as well as however amazingly, Quincy Quarry did not run another piece on Quincy's Number One Ward Heeler this week.
But not to worry: it is only a matter of when – as opposed to if – she is yet again as well as deservedly exposéd.
]]>