<![CDATA[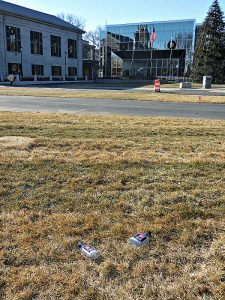 – News about Quincy from Quincy Quarry News
Quincy City Hall replete with Holiday Cheer, spirits – whatever …
While out and about in advance of Christmas, intrepid Quincy Quarry photographic personnel happened upon empty spirits in front of City Hall and so photographed signs of holiday cheer.
After all, it has been cold at night of late on the increasing mean as well as more than occasionally fatal streets of the Q.
As for clean up, however, such was not so soon to happen.
Apparently, such efforts are up to the Park and Forestry Department, perhaps the City Hall janitorial staff or perhaps none of the various city facilities maintenance units.
Quincy Quarry briefly considered reaching out to Department of Public Works Commissar Dan "Spanky" Raymondi for comment.
However, it was quickly decided that no one should have to suffer listening to Spanky go on and on and on and on even more about the hardworking men and (some, ed.) women at the DPW, especially when the ever increasing legions of loyal Quincy Quarry readers know better.
That and how surely most DPW employees are planning to enjoy at least a little holiday spirit while watching this afternoon's Patriots game against the all but hapless New York Jets.
]]>