<![CDATA[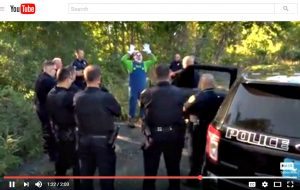 – News from elsewhere covered by Quincy Quarry News  
Dartmouth Police Department "cop car" responses team surrounds a creepy clown.
Dartmouth police are not clowning around when it comes to creepy clowns creeping out local residents and especially those who suffer from coulrophobia.
In response to an international epidemic of creepy clowns, Dartmouth Police have unleashed their plan to put a maximum response team cop car response team out on patrol to respond to creepy clown police calls.
And as one will see from the following official Dartmouth Police Department YouTube video, they got their clown.
Quincy Quarry considered reaching out to Quincy Police Chief and surely but coincidentally mayoral brother-in-law Paul "The Beav" Keenan to inquire if the Quincy Police Department might soon be adopting this sure to soon be the new national "Best Practices" response for dealing with creepy clowns.
However, the Quarry figured that the Chief was too busying with the sure to likely soon be metastasizing alleged detail double dipping scandal. 
That and perhaps further burdened with the widely rumored de facto mandate by the Norfolk County District Attorney that the Quincy Police Department's evidence room agree to undergoing an outside audit along with all other police department evidence rooms in Norfolk County in the wake of the Braintree Police Department evidence room debacle.
]]>