<![CDATA[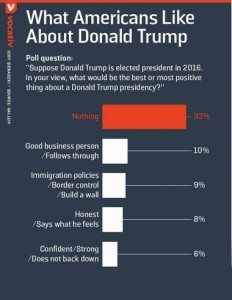 – News and commentary from elsewhere covered by Quincy Quarry News
Trump personal polling results crater.
The venerable and arguably original polling company now known as Gallup Inc  released its data on respondents responses as to their views on Donald Trump's more personal traits and such – and the results were not pretty.
One independent media review of the Gallup data noted in particular that 33% of the respondents could not think of anything whatsoever that would be positive about a Trump Presidency.
Even more troubling for the Trump campaign team,  trice-married Trump only reached a 10% favorable rating for his business acumen and following through on things with the rest of the opinions running in single digits.

Even worse as well as in particular,
only 2% found him entertaining
and only 1% found him better than what we have.
Overall, Quincy Quarry's polling expertise view this as about the worst unfavorable rating of any sort of arguable major candidate for national office in at least decades.
QQ disclaimer
]]>