<![CDATA[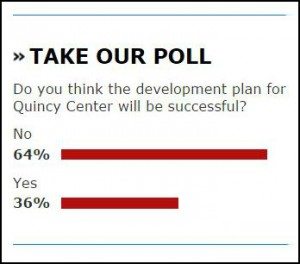 – News from elsewhere covered by Quincy Quarry News
Quincy locals do not expect Mayor Thomas P. Koch's plans for Quincy Center to succeed.
Per an online poll conducted by the South Shore broadsheet, locals overwhelmingly did not find favor with Mayor Koch's latest redevelopment plans for Quincy Center at a rate of almost two to one.
All things considered, the Quarry finds this vote of no confidence surprising positive, relatively speaking, given the Koch Maladministration's penchant for both taking polls and – most especially – ballot stuffing.

Even so, given the major mention by Mayor Koch of his latest rebooted plans for Quincy Center during his likely to have been ghostwritten inauguration speech today, along with his mention of other major spending proposals about to be inflicted upon long suffering local taxpayers, these polling data have to be disheartening for the mayor as well as undercutting of his various and as well often grandiose pipedreams.
Then again,
other data are similarly less than favorable
for Mayor Koch's latest rework of his long foundering plans to redevelop Quincy Center.
Problems include near universal sentiment his plans for (at least, ed.) $145 million in taxpayer-funding public infrastructure to redevelop Quincy Center are not going to accomplish any other than benefit the usual suspects as well as various suspect developers.
Further, and reported previously by Quincy Quarry, upscale new multiple unit residential housing projects in Boston are flooding, if not also glutting, the market just as Quincy's City Hall is touting plans for the development of upwards of two to three thousand upscale units in Quincy over the next eighteen months or thereabouts as well as that thousands more are also being touted to soon follow.
Conversely, how Quincy is going to accommodate, much less find those interested in fueling upwards of a 10% increase in local population in but a handful of years as well as thus in record time has yet to be explained by the Koch Maladministration per any even merely but perhaps plausibly viable scenario.
Problems care of just this one major – if not also potentially fatal – concern include that not only is the MBTA is still a long ways from but merely perhaps somewhat fixed, job growth in the higher levels of income that most of the various new Quincy housing projects are expecting, if not dependent upon, is not increasing as fast as are the anticipated number of new higher end housing units in Quincy over but a few short years.
Expect further as well as hard-hitting coverage in Quincy Quarry to follow.
QQ disclaimer
]]>