<![CDATA[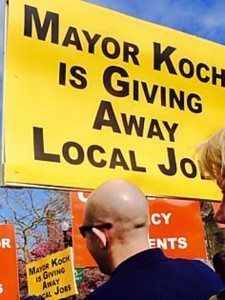 – News about Quincy MA from Quincy Quarry News.
Quincy labor unrest keeping embattled Quincy Mayor Thomas P. Koch up at night?
In the first major political protest in the Q in years, several hundred construction trades union members marched around Quincy Center at the start of yesterday's evening commute.
Labor's beef was over duly embattled incumbent Mayor Thomas P. Koch's apparent disinterest in seeing local union workers working on his long pursued to little success to date plans to see a redevelopment of Quincy Center.
While marchers were very well-behaved during their well-executed flash mob of a protest march, one can only properly assume that their personal views would, however arguable valid, not be amenable for publication even by the usually no-comments-barred standards of Quincy Quarry.

In response to the protest march, Mayor Koch was cited in the South Shore broadsheet as saying that " . . .
he wants to encourage future development projects in Quincy to hire union labor . . . and (that, ed.) unions will get substantial work out of the downtown (redevelopment, ed) for sure (sic)
."
In fairness to embattled Mayor Koch, Quincy Quarry must note that his maladministration does have a very well-documented record, including multiple instances of Civil Service violations, of providing opportunities to feed at the taxpayer-funded City trough for his
relatives
, the
connected
 and various others among
his coat holders, however problematic
.
Union activists, however, would thus appear to have no faith in the mayor's hot air-fueled words after the city went with non-union labor on the Coddington Hall and City Hall restoration projects, including
one project subcontractor – only one so far, that is – from New Hampshire that was cited for labor law violations while working on these City of Quincy projects
projects and was so both fined and banned from working on any public projects in Massachusetts for a year.
In an exclusive interview with protesting union members, Quincy Quarry was advised that more such protests should be expected.
Similarly, one cannot help but assume that local residents could well eventually also themselves opt to protest any number of similarly dubious statements – even per the lowly political standards for such spin – foisted upon them by the duly embattled incumbent.
For but one example from among innumerable dubious statements by Mayor Koch, his
original assertion that the currently projected to run (at least, ed.) $12.7 million City Hall renovation project was supposed to only run around $6.5 million
.
In the meanwhile,
Mayor Koch has already expressed his both his approval of, as well as support for a number of mid-eight figure Quincy Center projects
 that will be l
ower cost and less long-lasting wood-frame structures built with but minimal union labor involvement
 in what has long been a blue collar labor community.
Given that Quincy Mayor Koch is expected to be facing at least three challengers in the September primary election, one can only view labor union discontent as posing a major problem for the variously problematic as well as duly embattled incumbent.
QQdisclaimer
]]>