<![CDATA[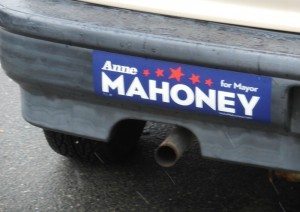 – News about Quincy MA from Quincy Quarry
Anne Mahoney to take on Quincy Old Boys Club network in another run for Mayor of Quincy Massachusetts?
Longtime School Committee member Anne Mahoney has long been expected to announce her second challenge of incumbent Mayor Thomas P. Koch in next November's local elections.
Now, it appears all but official that she will be running if one is to believe this bumper sticker recently photographed by Quincy Quarry literally right in front of fire-ravaged old City Hall.

In turn, many thousands of Quincy residents are looking to see their fondest Christmas gift wish granted:
Someone – Anyone – other than Koch
.
At the same time, Quincy Quarry did not reach out to Ms. Mahoney for comment out of respect to the holiday season.
The Quarry does, however, hope that she will appreciate that it will give her long anticipated candidacy the sort of coverage it deserves as it concurrently gives what is deserved to Mayor Koch.
Quincy Quarry also expects at least one other local elected official to officially announce his also long anticipated run for mayor.
The Quarry further anticipates the potential of at least two more well-known challengers announcing the tossings of their hats into the ring relatively early on in the fast approaching New Year.
Expect Quincy Quarry to both announce additional candidates as they may emerge as well as also most likely scoop its media brethren yet again with
its unique hard-hitting and no holds barred coverage of news in the Q
.
QQ disclaimer
]]>