<![CDATA[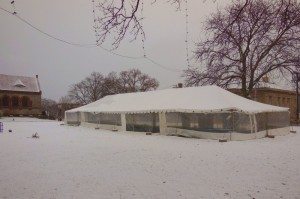 – News about Quincy MA from Quincy Quarry
Quincy Center Christmas disaster was perhaps Averted as city officials spared no expense as expected to see the annual city Christmas tree lighting and thus latest mayoral photo op perhaps come off without too many more hitches.
Quincy Quarry will be monitoring the disaster scene so as be able to report any further breaking events.

Surely hand-selected workers were called in to work on Thanksgiving Day and so even further stuff their paychecks to both repair a storm damaged party tent as well as finish up the finishing touches for the annual Christmas tree lighting and parade.
While it is well understood that the mayor
loves both photo ops
as well as parades,
no explanation was offered as to why the VIP guest tent for the tree lighting was less than robustly set-up in front of the Thomas Crane Library whereas the city's official Christmas tress is several hundred feet away
as well as out of sight in front of what is left of the fire-ravaged City Hall.
Similarly,
no explanation was offered as to why the city's tree was "harvested" from the historic Mount Wollaston Cemetery
.
After all, one can only assume that the cemetery should enjoy various protections from such egregious depredations.
Then again, so far there have been no protests from the usually unanimous Ward 7 residents over
this latest local chain saw massacre
.
Conversely, however, 
expensive new evergreens at the still unfinished as well as over-budget Coddington Hall renovation project are entering their third week knocked dangerously sideways
 by back to back Nor'easters earlier this month.
Quincy Quarry continues to not be able to obtain any official comment from any city official as to why this clear and obvious safety risk continues to be unresolved.
QQ disclaimer
]]>