<![CDATA[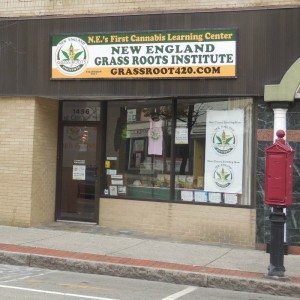 – News about Quincy MA from Quincy Quarry
Quincy Center pipe dreams continue as the New England Grass Roots Institute, New England's purportedly first cannabis learning center, is surely looking forward to welcoming not quite high rise neighbors in a proposed to be built next door luxury apartment building.
The so-called West of Chestnut building is currently slated to be developed by Quincy Mutual Insurance and its partner Gate Residential Properties, "… the development arm of Redgate Real Estate Advisors, which is the company (Quincy Mayor Thomas P.) Koch hired in June to consult the city in its plans to redevelop downtown as a whole."

While no discussion of the appearance of a potential conflict of interest was mentioned
at the gala photo op announcement for this latest Quincy Center redevelopment proposal and featuring Quincy Mayor Thomas P. Koch,
one can still not help but wonder about the roles of Redgate on both sides as well as on top of the fence on this project
.
But what the hay, it's Quincy and it's only a conflict of interest if an outside oversight agency labels it as such.
That and Mayor Koch is surely as well as desperately continuing to hope to see
his currently all but moribund grandiose plans for redeveloping Quincy Center
as at least appearing to be on life support.
In any event, the targeted younger professionals for tenancy in the sure to be high security building will surely appreciate the convenience of having both Grass Roots and a 
Family Dollar store
right next door and directly across the street, respectively.
Whether – or not – Provincetown-based
Ermont Inc
, a state licensed medicinal marijuana dispensary soon to be opening up a pot shop in Quincy, will be providing valet delivery service to West of Chestnut residents is as yet unknown; however, rumor has it that local Papa Gino's, Domino's and Dunkin Donuts franchisees are already locked in a fierce bidding war for the exclusive munchies delivery rights.
QQ disclaimer
]]>