<![CDATA[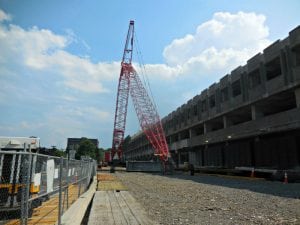 – News about Quincy from Quincy Quarry News.
Quincy Center MBTA parking garage demolition project work stoppage?
In the wake of ongoing quietude in the Q of late, Quincy Quarry has identified why things have been relatively quiet – outside of the usual heroin zombies, that is – in Quincy Center: demolition work has stopped on the MBTA's long condemned and closed Quincy Center parking garage.
As a number of local straphangers and others have noted recently, demolition work on the garage stopped a couple of weeks ago.
In turn, per a quintessentially well-placed as well as all but unimpeachable Quincy Quarry resource, the Quarry has been advised of the apparent reason for the work stoppage: the general contractor in charge of things is rumored to have not been paying the subcontractor doing the actual demolition work in a timely manner and the sub walked off of the job after it become fed up over not being paid for its efforts.
Additionally, the general contractor is said to have a bad rep for slow paying at least some of its other vendors.
Further problematic, the general contractor is arguably the phoenix of Modern Continental of Big Dig infamy.
While Quincy Quarry has not reached to either the Quincy-based general contractor or the MBTA for comment, the Quarry fully expect things to soon be hitting the fan.
And when it does, expect Quincy Quarry to report on it.
]]>