<![CDATA[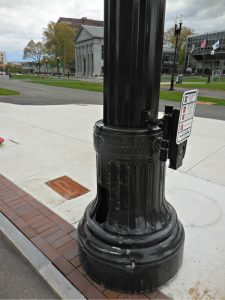 – News about Quincy from Quincy Quarry News.
Quincy Center traffic light the latest accident victim in Quincy Center.
While Quincy Quarry has yet to bother trying to discern if a formal accident report was filed, much less go to the effort to then try to access it, one of the very expensive and even more problematic new HAWK System traffic light uprights was recently whacked by a suspected to have been motor vehicle of some sort.
While not quite as clear as can be seen first hand, the full extent of the structural damage inflicted upon the cast iron and surely expensive ornamental base cover of this particular traffic light upright has likely ruined it.
Then again, such was only to be expected given the upright's vulnerable placement at arguably the most ill-advised spot along the Hancock Street Misalignment project.
Even so, as well as was previously exposéd by Quincy Quarry, this very expensive but problematically placed as well as otherwise problematic stoplight was not the first new traffic light upright along the Hancock Street Misalignment Project to get whacked.
As the Quarry reported some months ago, a traffic light upright behind the Presidents Church in Quincy Center was whacked.
Similarly, just last week a construction worker was struck and so seriously injured near the now far more complex and thus surely confusing intersection of Hancock Street and Granite Street.
What or who will be whacked next on the increasingly mean streets of the Q remains to be seen, however.
Do, however, expect Quincy Quarry to exposé it if and as appropriate.
]]>