<![CDATA[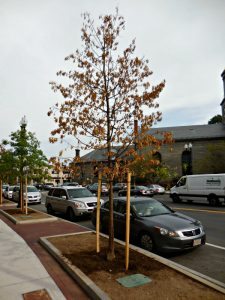 – News about Quincy from Quincy Quarry News 
Quincy Center expensive new tree dying from lack of water.
Given the lack of water and in spite of yet another hard-hitting Quincy Quarry exposé into the soft underbelly that is the Koch Maladministration, at least one of the many new and surely expensive trees in Quincy Center has fallen victim to a lack of water.
While this tree does have one lesser as well as lower limb still sporting some green leaves, the rest of this tree's leaves are as brown as Quincy lawns of late.
Of further concern, the tree's sap does not appear to be flowing and it thus might be about time to call a Wiccan shaman to provide last rites before yet another Quincy Center tree is chainsawed.
While one can only expect that City Hall will likely blame both the landscaping subcontractor and the recent heatwave for this latest needless pending demise of an innocent tree, the fact of the matter is that the dozens of recently-planted new trees along the Hancock Street Misalignment project in Quincy Center were not watered for days to upwards of a week at a time in recent weeks.
Further troubling, courtesy of Quincy Quarry's sources both high but mostly low, rumor has it that the recently planted trees along the misalignment project were planted in spite of the fact that the also expensive underground water system was not functioning at all or at least not properly and the trees were thus left high and dry.
Plus, who in their right mind plants trees in the middle of the summer?
Well, it would clearly appear those who are in a hurry to finish up a project that was supposed to be completed within twenty months but which is currently running almost a year behind schedule as well as thus also inflicting further havoc upon the many already long suffering commuters, essentially all Quincy Center businesses as well as taxpayers in general.
As such, expect Quincy Quarry to continue to monitor the situation as all trees also matter.
]]>