<![CDATA[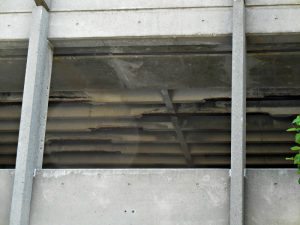 – News about Quincy from Quincy Quarry News      
Quincy Center MBTA garage rotted to its core?
In what appears to be the first and only media coverage, Quincy Quarry has both found and then photographed signs of work undertaken in the long condemned and closed Quincy Center MBTA Garage.
Such can only mean one of the two things for the now over four long years closed parking garage.
One is that it is finally going to be replaced.
And the other is that the garage is being shored given safety concerns as well as will thus likely continue to stand useless for quite a while yet to come.
Absent any word out of Quincy's City Hall claiming that the garage is actually scheduled for demolition and replacement, it is thus only logical to assume that the garage is going to be left in place to continue to deteriorate and that the MBTA is thus shoring it up so as to endeavor to stave off a catastrophic failure.
As one can see, inside concrete support beams are coming apart and that support bracing has been put in place, although not all of the bracing appears to have been properly installed.
Quincy Quarry considered reaching out the Koch Maladministration for comment as Quincy Mayor Thomas P. Koch has been the Chair of the MBTA Advisory Board for over four and half years, but then only properly assumed that he was probably not able to explain any of the structural concerns, much less technical matters.
The Quarry also considered reaching out to the MBTA, but figured that why end up left on hold interminably while the T's customer service desk was dealing with the usual daily crush of complaints.
Even so, the Quincy was still able to discern all manner of possible additional concerns. 
For example, a broken mirror that was inexplicably lying around where bracing work had been undertaken; is the garage now looking at seven more years of bad luck?
In the meanwhile, Quincy Center continues to have arguably the worst MBTA station among at least Red Line stations, if not the entire MBTA rail network.
On the other hand, commuters continue to readily be able to pick up a nickel bag at or around the station as well as that recently one has also often been able to pick up a working girl next to the station on weekday afternoons for a quick trick.
In any event, expect Quincy Quarry to continue to cover the crumbling and thus worrisome concrete over the heavily trafficked as well as recently tricked out Quincy Center MBTA station
]]>