<![CDATA[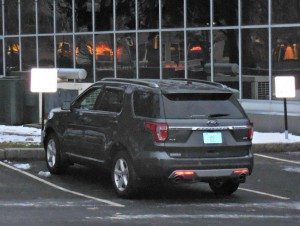 – News about Quincy from Quincy Quarry News
Quincy City Hall has a new city ride for mayor?
Several weeks after first spotting a new and up size model Ford Explorer parked in and next to the parking space reserved for Quincy Mayor Thomas P. Koch in the City Hall VIP parking lot right after the mayor's re-inauguration, Quincy Quarry reporters have since inadvertently come to spot the following.

One, Mayor Koch has been made driving this shiny new city ride.
And the other unanticipated observation:  the mayor's Director of Operations was recently spotted both warming up and – well – then valet parking this shiny new city ride.
While Quincy Quarry staff have also continued to see the Mayor's big grey Chevy extended cab pick-up with "QUINCY" on its vanity license plates still coming to and going from City Hall, it would seem reasonable to suggest that – at minimum – City Hall now appears to at least be operating a VIP city ride motor pool consisting of at least one shiny new taxpayer-funded vehicle.
Granted, the mayor does receive a car allowance as part of his compensation package; however, one can only wonder how there is enough money in his employment package travel (read mostly car, ed.) allowance of $600.00 month to cover the cost of even but a lease and the lease deposit for such a big SUV, much less covering its fuel, maintenance and other operating expenses.
Then again, duly monitoring the access swipe cards for tanking up at the city's fuel pumps behind the Police headquarters has never been all that much of a priority and now probably even less so with regular currently running less than $2.00 a gallon.
Quincy Quarry considered reaching out to City Hall for comment, only to then burst out laughing over the idea.
Even so, do expect the Quarry to find out in due course just exactly what's going down with this new ride via its sources both high but mostly low.
QQ disclaimer
]]>