<![CDATA[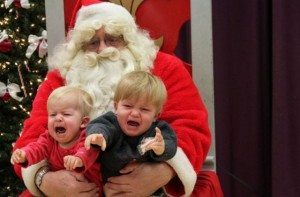 – Christmas news covered by Quincy Quarry News
Santa is apparently not universally popular.
As has been brainwashed into the consciousness of American consumers, many opt to work off a Thanksgiving food coma is to hit the malls right after the second helping of pumpkin pie.
Not all, however, are wild about the whole usual Christmas thing and which these two tikes have clearly expressed.
Others similarly disposed might want consider opting for the core reason for the season and help others less fortunate.
For example, consider helping out Christmas in the City to help out homeless and in transition families.
Now in it is twenty-seventh year of providing good will and more to those less fortunate, the all-volunteer Christmas in the City hosts memorable Christmas party at the Boston Convention Center for over three thousand in need as well as provides toys to thousands more children of modest means.
Not only do attendees receive a personal gift bag, the event includes transportation to and from the party, lunch, live entertainment, all manner of moon bounces, clowns, crafts, pony rides as well as a visit by the Big Guy himself.
Other party features include free haircuts, dental checks and various other things that families in need often have to forgo.
Christmas in the City also provides Thanksgiving Day dinner food baskets as well as via its Adopt a Family program provides year round support to families to establish stable residences.
In short, 'tis the season to provide comfort and joy regardless of one's faith, beliefs or ethnicity.
]]>