<![CDATA[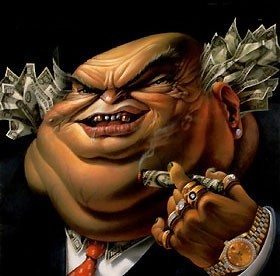 – Quincy News from Quincy Quarry News
Quincy Mayor Koch last minute campaign contribution trafficking uodate.
In the wake of Koch campaign committee's latest Massachusetts Office of Campaign of Political Finance bimonthly bank report for the first two weeks of October – and thus the last full bank account activity report to be available for ready review by the public before next week's election, it would appear that Koch has managed to shakedown somewhere between $79,926.00 in last minute contributions to perhaps as much as $111,785.00 per the Southshore broadsheet's review of the historically as well as often problematic Koch Committee filings with the Office of Campaign of Political Finance.

Unfortunately for those who hoped to see this massive last minute cash inflow slip under the radar,
bank deposits
 are reported separately as funds are deposited and thus the many usual suspects contributing late in the going 
can be identified before the election if one knows how to review OCPF report
s.
Further troubling, the separate bank deposit reports also indicate a considerable number of previously filed deposit reports filings resubmitted as amended filings given apparent shortcomings with previously filed deposit reports.
As Quincy Quarry has reported previously, previous 
errant reports filed by the Koch Committee
  with the Office of Campaign of Political Finance have long been chronic, if not also epidemic, and so requiring numerous amended refillings that also often had to themselves be redone at least twice more on average.
As for these latest as well as last minute campaign contribution shakedowns, 0n top of the usual local suspects, others listed on the late 
campaign donations shakedown
 uptick are eye catching, if not also eye opening.
A quick listing of others include last minute contributions running in the thousands would appear to have flowed into Koch's coffers from
the two mysterious but apparently fun loving Russian and Ukrainian immigrants
now operating out of Allston
who have bought up tens of millions of dollars worth of property
in Quincy Center as well as various others variously tied to them, six separate thousand dollar contributions from parties tied to a local new car dealerships operator and shipyard owner, and even
$500 from the executive director of the still yet to be opened pot shop
next to Granite Links golf course.
Given this late influx of cash, it would appear to be sufficient for the embattled incumbent to excessively, if not also obsessively, spend in excess of upwards of $650,000.00 in an attempt to buy his reelection as mayor before he might have to engage in his pervasive bad habit of deficient spending on just about all of his major initiatives in his official activities as mayor.
Given this late influx of cash, locals can thus expect even more junk mail from the embattled incumbent in the waning days of the election campaign, seniors in senior housing can expect overflowing gift baskets from the Koch Committee and the usual line-up of suspect Kool Aid drinkers can expect quite a buffet at Koch's election night gala.
In the meanwhile, only time will tell if embattled incumbent Mayor Koch's election night gala will be upbeat or funerary.
QQ disclaimer
]]>