<![CDATA[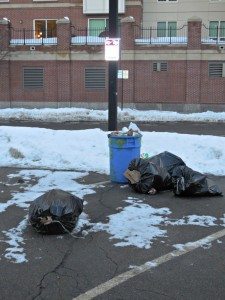 – News about Quincy MA from Quincy Quarry News
Quincy City Hall's well-plowed employee and suspected VIP free commuter parking spaces appears to have been trashed by at least one irate local.
Whether – or not – the mess will be cleaned up in time for VIP parking for the purported resumption of Red Line service by the MBTA on Monday remains to be seen; however, given the Department of Public Works perfect record of keeping City Hall parking lots clear down to pavement 24/7 during this winter without any end yet in sight, one can only assume that the mess will be cleaned up before the start of the morning commute.
If only the mess inside of City Hall could be so easily cleaned up.

As for motivation for this trashy act of
Civil Disobedience
, the odds favor entirely understandable outrage by local residents who had their driveways plowed shut by street snow plows, residents with all but unplowed streets or those whom
Sunrise Scavenger
 has failed to pick up their trash.
As for suspects, one can only assume that Quincy Police Chief Paul "
The Beav
" Keenan" has narrowed things down to the usual suspects: the roughly 87,000 local residents who have not voted for his brother-in-law Mayor Tom "
Cupcakes
" Koch and most especially the roughly 10,000 among the 87,000 who have consistently voted against Mayor Koch.
Quincy Quarry readers can look forward to further coverage on this latest trashy story in the Q.
QQ disclaimer
]]>