<![CDATA[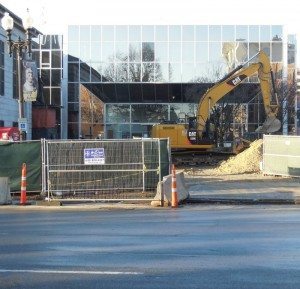 – News about Quincy MA from Quincy Quarry
Quincy City Hall officials are surely continuing to endeavor all manner of efforts to see the restoration of the old City Hall wing is finished up by perhaps sometime in June in the wake of last September's devastating and perhaps very easily avoidable fire.
"We have to do a better job," said Quincy Mayor Thomas P. Koch.
In June of what year this gut wall and museum grade renovation project might , however, be completed has yet to be confirmed.

That and if project management ever figures out that attempting to aggressively speed up this behind schedule from pretty much Day One project just may have been a prefacing antecedent that facilitated last fall's alleged break-in and which – in turn – purportedly gave rise to last fall's devastating fire.
Regardless, as well as in yet another display of Koch Maladministration's views as regards diversity, work on City Hall was going full spreed ahead first thing in the morning on the Martin Luther King Day holiday.
Quincy Quarry was not able to contact any City Hall officials given the holiday and thus did not bother.
Plus, rumor has it that the usual Maladministration suspects are holed up at a secret location over the long holiday weekend for some trying to figure out a strategy to deal with at least two opponents in the upcoming mayoral elections.
Accordingly, Quincy Quarry, has staked out Napoli's to watch for large delivery orders and thus expects to locate the secret location soon enough.
Until then, however, the Quarry will be unable to determine just how much extra compensation project workers might see for their working on a national holiday.
Then again, as there have been
Attorney General sanctions imposed upon one of who only knows how many non-union project subcontractors over labor law/worker compensation violations
on this latest grandiose over-budget Koch Maladministration "
edifice complex
," perhaps just reaching out to City Hall project construction workers might prove to be the most expedient option to find out if holiday premium pay will be paid to them.
QQ disclaimer
]]>