<![CDATA[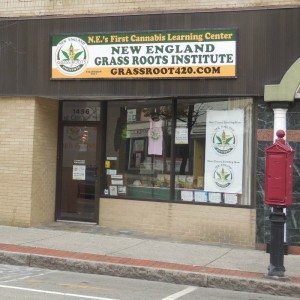 – News about Quincy MA from Quincy Quarry
Quincy has a positive new first in Quincy Center after a string of recent economic downturns ranging from failed redevelopment plans to the pending closing of Quincy Medical Center: the opening of New England's purportedly first (official, ed) cannabis learning center.
The New England Grass Roots Institute is the first first for Quincy after a long run of mostly seconds:  home of the Second President of the United States and later a second President from Quincy, second city status – at best – to Boston, ad infinitum as well as ad nauseum.
Similarly, even when Quincy enjoyed number one status as was the case for the both the original Howard Johnson's restaurant as well as the first Dunkin Donuts, there is currently no presence of HoJo's in the Q and the original Dunkies has long since been replaced by a new structure.

Even worse, the USS Salem – the proxy second to the USS Quincy as well as
an homage to the long closed Fore River Shipyard
– has been
essentially evicted and is currently slated to be towed to East Boston
.
Still, with Quincy also on track to become
one of the first host cities to host medicinal marijuana pot shops
 in the Commonwealth, one can only assume that
The New England Grass Roots Institute
is looking forward to an extended run in Quincy – at least so long as 
the rumored second trip to bankruptcy court for Twinkies can be quickly repackaged as a reorganization plan
.
Whether – or not – medicinal marijuana dealers are going to be able to set up regular bank accounts, however, remains to be seen given concerns over
draconian federal illegal drug trafficking asset seizure statutes
.
Fortunately for
The New England Grass Roots Institute
, it claims to only be offering educational items as opposed to directly engaging in any still federally illegal trafficking.
Unfortunately, however, Mayor Koch has apparently failed to appreciate the potential problems that a potential lack of a bank account for pending Quincy pot shop franchisee
Ermont, Inc
to effect payment on any
host agreement with the City of Quincy
might cause, much less that of the hypothetical potential of a federal seizure of the City of Quincy for so benefiting financially from trafficking.
QQ disclaimer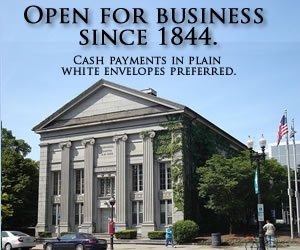 ]]>