Olympia Sports is closing 76 stores, 22 of them in Massachusetts.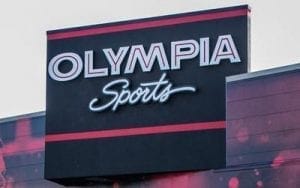 – News covered by Quincy Quarry News with commentary added  
Olympia Sports is closing 76 stores, just over half of its stores.
The long-ongoing contraction of retail stores continues.
Amazingly, however, Olympia's Quincy Center location is not on the store closing list and which as near as Quincy Quarry can discern looks to be a local first given such a draconian store closing by a retailer on a percentage basis.
Maine-based Olympia was recently bought by sports retailer JackRabbit and which in turn is owned by a Los Angeles-based private vulture capital fund.
No word at this point, however, if the to remain in operation Olympia Sports locations will be rebranded under the JackRabbit brand or if they will continue to operate under the Qlympia name.
Source: Olympia Sports Closing 76 Stores, 22 In Massachusetts