<![CDATA[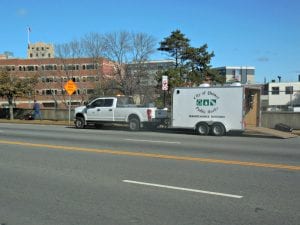 – News and commentary about Quincy from Quincy Quarry News. 
Quincy Public Works Department helping out the foundering Parks Department.
How badly are things Q'ed up at the City of Quincy Parks and Forestry Department? 
So badly that the DPW has had to help them out.
Quincy Quarry personnel out looking for breaking badly bad news on the ever-increasingly mean streets of the Q happened up DPW personnel out moving city lawn and cleaning up under city trees.
Still yet to be compelling explained by the Koch Maladministration, however, is why does Park and Forestry Department needs its patronage hire head's title upgraded to Commissioner and this posiion's pay upgraded by roughly forty percent when the long ongoing demands upon the department have been largely unchanged for over a decade and the department's annual budget funding increases have more than outstripped.
Absent an explanation, Quincy Quarry can thus only reasonably as well as only properly note that Mayor Koch is the one who appointed the four parks department heads who have served with less than great distinction during his maladministration.
Needless to say, count on Quincy Quarry to continue to monitor the situation and report back as appropriate.
]]>