<![CDATA[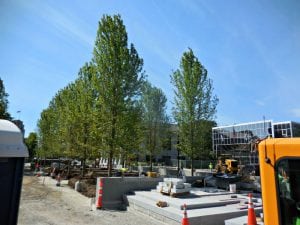 – News about Quincy from Quincy Quarry News. 
Latest Quincy City Hall cover-up opts to go Green?
Quincy Quarry has long exposéd all manner of Koch Maladministration cover-ups.
This time, however, is the first one to endeavor to rely on landscaping as its primary camo cover for covering up this latest instance of profligate overspending.
In an attempt to provide a rapid mirage of Kim Jong Koch Plaza – formerly known as the Hancock Adams Green – into a seemingly long established and mature green space, a veritable forest of massive as well as massively expensive twenty to twenty-five foot tall trees have been transplanted in front of City Hall.
That and so all but obscuring City Hall from public view.
In turn, such has played a major role in causing the current but second phase of an at least three phase project to cost just short of $16 million.
That and so all but obscuring City Hall from public view.
Further, these many millions to be spent on Phase Two are in addition to many millions already spent during Phase One.
A total cost as well as proper accounting, however, is unlikely given likely multiple sets of books kept hidden from public as well as investigators review.
Phase One spendings approximately known to date include the following but sampling of surely tens of millions already spent as well as formally contracted to be spent by the secretive Koch Maladministration:
Half a million on a pair of "heroic" bronze statutes created for a city known for it granite by a Russian emigr

é

now living in Italy.
Close to a million on a underground water cistern that will supply water to two too many three too large for the venue water fountains.
Easily a million more on already installed landscaping.
At least a couple of million on design fees
A handful or so of millions more on the premature replacement of underground utilities.
In turn, roughly twenty-five million dollars will have surely been spent on but landscaping what is a but acre and half space by the end of this calendar year.
And adding further injury to taxpayers' bank accounts, a handful of millions more will be needed to complete this rift on this North Korean and Soviet Monumental Schools of Design edifice complex in some future year(s).
When, however, these further millions might actually have to spent in turn depends on when the MBTA might have the funds to rebuild the Quincy Center MBTA station and which it is currently undergoing a but partial demolition of its long condemned parking garage.
In the meanwhile, Quincy Quarry has arranged for Fred Olmsted to monitor this latest running way over the originally projected to run but fifteen million dollars or thereabouts project at Kim Jong Koch Plaza with the goal of developing a review of the work that is currently slated to perhaps be completed this coming fall as opposed to this summer as previously announced and so continuing t0 run even later than its original 2015 completion date.
That and so be able to pluperfecly bookend the Quarry's previously published review of the nearly thirteen million dollar as well as also unlucky renovation of old City Hall by world renowned architect I. M. Wright.
Additionally, given what appears to be a moat motif for the water fountains and slit trench look/feel granite defense embankments, the Quarry is reaching out to Erich von Falkenhayn for his thoughts.
]]>