<![CDATA[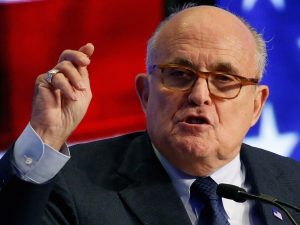 – News from elsewhere covered by Quincy Quarry News with commentary added.
Rudy Giuliani advises President Trump not to agree to interview by Special Prosecutor Mueller unless provided with classified information beforehand.
Said President Trump's personal attorney and one-time mayor of New York Rudy Giuliani on the Sunday TV talking heads circuit, the president should refuse to submit to an interview with special counsel Robert Mueller unless the President's legal team can review classified information that was shared with select lawmakers earlier this week about the origins of the FBI investigation into Russia meddling during 2016 presidential election campaign.
In short, show me yours and then maybe we might show ours.
Apparently, Mr. Giuliani has forgotten his experiences while a US Attorney that prosecutors tend not to show what all they know until they have to do so, especially when endeavoring to follow the money, confirm when the interviewed party knew what as well as when obstruction of justice and/or perjury are perhaps in play.
Source: Giuliani Advises No Mueller Interview Without Informant Info
]]>