<![CDATA[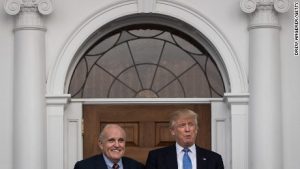 – News from elsewhere covered by Quincy Quarry News with commentary added.
Has Rudy Giuliani has jumped the shark?
On Wednesday night while appearing on Fox News, newly named private counsel to President Trump and one-time Mayor of New York Rudy Giuliani announced that Trump had – in fact – personally paid the $130,000 in hush money over Trump's apparently onetime-only assignation with and spanking by adult video performer Stormy Daniels.
Needless to say, both the supposedly mainline media as well as tabloids have gone hyperbolic with their musings as to what the Q was Giuliani was thinking when he spoke about the hush money.
That and also prognosticating as to how soon Rudy might soon be following innumerable other onetime Trump aides to the unemployment office.
Conversely, Quincy Quarry's legal and illicit affairs desks have both for a change independently come to the same conclusion that the White House has decided that perhaps the only way to end the long ongoing Stormy weather is to finally cop to copping more than a feel but no one had also violated campaign laws when paying for silence.
In other words, better to just have Melania livid than face both her and an impeachment trial in the US Senate.
Then again, shortly after Rudy Giuliani jumped the shark, President Trump walked back some of what Rudy said on Fox in what Quincy Quarry suspect was but another round of President Trump Rope-a-doping media dopes.
Among other things, few things are more exasperating for a defense attorney than a client who does not abide by the legal advise provided to that client.
Source:  Rudy Giuliani, America's mayor, has jumped the shark
]]>