<![CDATA[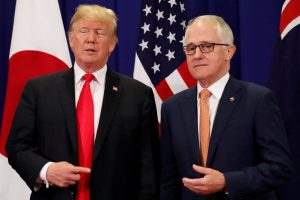 – News from elsewhere covered by Quincy Quarry News with commentary added.
Trump "absolutely" deserves credit for North Korea-South Korea peace talks, says Australian Prime Minister Malcolm Turnbull.
After months of trash talking by both North Korean dictator Kim Jung Un and United States President Donald Trump, concurrent pressure imposed upon North Korean has at least cracked open the door to the possibility of the denuclearization of the Korean Peninsula.
Then again, this is not the first time the possibility of such happening has been floated by North Korea.
In the meanwhile, the leaders of North and South Korea have been engaged in a gushing public bromance not seen since President Trump's gushing over French President Emmanuel Macron during Macron's recent state visit to Washington DC.
Even so, the path to a possible peace is fraught with peril.
At minimum, North Korea has often reneged on past major agreements.
Moreover, even if peace actually does happen, at least savvy one observer as well as successful peacemaker himself does not expect President Trump to receive any credit if he succeeds. 
They will give the Nobel to Kim before they give it to Trump.

— Richard M. Nixon (@dick_nixon) April 27, 2018
Reasons for this assessment include that President Nixon did not duly enjoy credit for his own considerable diplomatic achievements.
Source: Trump 'Absolutely' Deserves Credit for North Korea-South Korea Peace Talks, Says Australian PM
]]>