<![CDATA[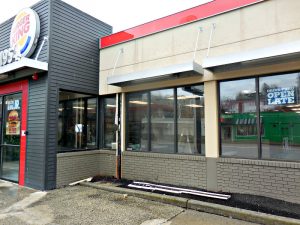 – News about Quincy from Quincy Quarry News.  
Quincy burger joint flamed by a butt?
A local national chain burger joint located at 62 Granite Street in Quincy Center was flame-broiled by flames.
While an official incident report has not been obtained by the Quarry, the fire appears to have been caused by arguably the first cigarette butt-caused landscaping mulch fire of season shortly before 9 pm Tuesday evening.
Fortunately, care of a quick and professional response by the Quincy Fire Department, a whopper of a fire was avoided. 
Unfortunately, the morning after the fire no one was able to have it her or his way while repairs and a securing clearance to reopen were in process.
Quincy Quarry will monitor the scene and report back on this fire if the Quarry finds itself in need of a slow news day filler news feature.
]]>