<![CDATA[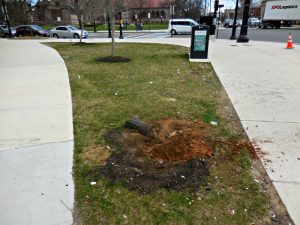 – News about Quincy from Quincy Quarry News.
Quincy Center Tree and Traffic Light Double Whacking – Part 2.
In follow up to previous Quincy Quarry coverage on the latest double whacking in Quincy Center, the Quarry can only fairly note – not to mention also amazingly so – that a day after Quarry personnel first stumbled upon the carnage, most of what remained had been hauled away for a possible treecropcy.
http://quincyquarry.com/quincy-ma/news/2018/04/quincy-center-tree-and-traffic-light-double-whacking/
Granted, however, most is not all. 
Apparently, hauling away a tree must be a Park and Forestry Department work task per the local union contract or at least usual practices whereas hauling away metal remains of a traffic light is the responsibility of some other work unit.
After all, the more people kept looking busy, the better City Hall might be able to fool at least itself.
Regardless, count on Quincy Quarry to continue follow this latest display of whacking taxpayers in Quincy Center.
]]>