<![CDATA[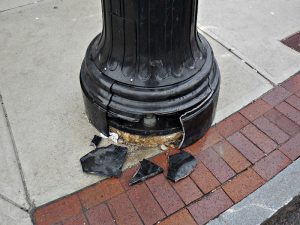 – News about Quincy from Quincy Quarry News with commentary added.
Quincy Center traffic light now more busted.
Part I of yet another Quincy Quarry continuing series of exposés?
While out and about on the ever-increasingly mean streets of Quincy somewhat recently, Quincy Quarry news personal spotted that a long broken Quincy Center traffic light had been even further broken.
Granted, the traffic signal is still working – at least as well as as what passes for traffic signalization in the Q.
Even so, the failure to effect repair only baits fair questions about what passes for municipal maintenance, especially when it comes to expensive and fairly new public infrastructure such as this ornate cast iron traffic light pole.
Then again, with addressing trafficking in the Q also suspect, one should not find it surprising that a repeatedly damaged traffic light pole would also be ignored.
Regardless, expect Quincy Quarry to follow up on this looking to be unending series of exposés.
]]>