<![CDATA[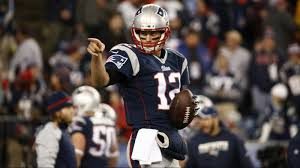 – News from elsewhere covered by Quincy Quarry News with commentary added.
NFL Conference title games game day prognostications: will old age and and treachery overcome youth and skill?
While many members of Patriots Nation were rolling to Foxboro to tailgate, preparing a game day spread for watching the game at home and/or praying that the four stitches on the GOAT's throwing hand thumb hold together this afternoon, the touts on the Quincy Quarry sports desks were running their analytical algorithms one last time on the Quarry's supercomputer to endeavor to discern what to expect today at Gillette Stadium.
The computer's most likely prognostications on the game's outcome were but two: either a convincing win by the Patriots or a razor thin win that will most likely be decided in the closing minutes – if not final seconds – of the game.
And as for the late game, as much as the Quarry is a fan of the Cinderella story of the Minnesota Vikings' back-up quarterback rising to the occasion this season, the Vikings having to play before the renowned tough fans at the Philadelphia Eagles' Lincoln Financial Field home stadium is a fate that one would only wish upon one's most hated opponent.
As such, one thus cannot help but find the consensus negative three points spread facing the underdog Eagles as an attractive play even if the Vikings have the toughest in the NFL to score upon defense.
With the Eagles also fielding a tough defense, expect this game to play out to a defensive battle royal finish.
Regardless, today could well be turn out to be one of the best parings of conference title games in the history of the National Football League.
]]>