<![CDATA[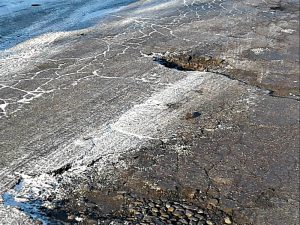 – News about Quincy from Quincy Quarry News.
Pothole season opening early this year?
Normally, most wintertime potholes open up between roughly Presidents Day and St. Patrick's Day in Eastern Massachusetts. 
The key reason: such is usually when frequent cycles of freezing and thawing peak during the winter season and so wreak havoc on pavement.
This year, however, the brutal run of frigid weather from around the holidays until recently appear to have already taken a heavy toll on local roads.
For example, in recent days Quincy Quarry was advised of a massive pothole on Newport Avenue near Wendy's Hamburgers as well as that it appeared to have resulted in two vehicles suffering breakdowns.
With considerable pavement damage already occurring, what will things be like when the traditional season for potholes opening up begins next month?
Needless to say, count on Quincy Quarry to monitor Breaking Badly Bad News© about broken pavement in the Q as well as then report on same as might be appropriate.
]]>