<![CDATA[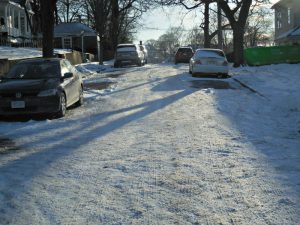 – News about Quincy from Quincy Quarry News.  
Quincy's worst street three days after the White Christmas Day white-out?
While out and about on the every increasingly mean streets as well as now also cold streets of Quincy, Quincy Quarry News personnel braving arctic wind chill happened up a local residential street that showed no signs of either plowing or salting – much less both done –  in the wake of this past Monday's White Christmas Day white-out.
While perhaps there are other comparably Q-up streets in the Q, one can only reasonably assume that things could not be any worse given no plowing or salting. 
Then again, as we are talking the Q who the Q knows for certain.
In any event, with the snow now packed hard on this Quincy street and the extended weather forecast calling for unseasonably cold to record low temperatures as well as more snow expected over the weekend, residents of this street would appear to be Q'ed until perhaps as long as into until the second week of the New Year.
Needless to say, expect Quincy Quarry to continue to follow this latest Q-up in the Q by the City of Quincy and report back as might be appropriate.
]]>