<![CDATA[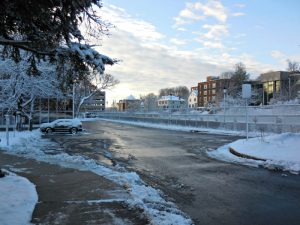 – News about Quincy from Quincy Quarry News.  
Quincy got plowed.
Quincy Quarry staff drew straws to see how would have to drag his or herself out of bed on a cold and snowy Sunday to survey things after yesterday into early this morning's storm.
Per the unofficial Quincy Quarry snow meter, the snowfall was a relatively light and fluffy four and half inches at its maximum before a late shift to rain reduced the depth of the snowfall.  
At same time, it is only proper to note that given their proximity to the water, Hough's Neck and Squantum probably received a bit less snowfall and West Quincy most likely endured a bit more than average as is typical.
In any event, as well as fortunately for all local residents, the snowfall was slow and steady as opposed to a windy blizzard as well as occurred mostly during a quiet December Saturday evening given that people these days are doing more and more of their holiday shopping online.
In any event, given a perfectly behaved as well as relatively modest storm, it would appear that all local streets were plowed and for the most part at least adequately so.
Even so, there still was some variability. 
While main thoroughfares were found to be in good to even excellent shape, a number of side streets were less than aces.
Quincy's City Hall, however, was found early Sunday morning to be thoroughly plowed down to the pavement as well as well-salted as usual even though it is closed for business until tomorrow morning.
Even so, it is still only fair to score this latest Saturday night plowing as a solid B. 
After all, awarding an A for an easy peasy storm event would be the height of grade inflation, especially as many unplowed areas around the Q were cleared via solar melting by the time the sun went down on Sunday. 
]]>