<![CDATA[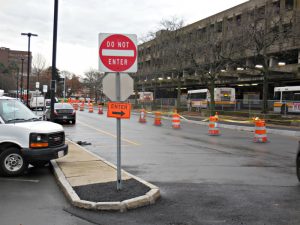 – News about Quincy from Quincy Quarry News. 
Signs of impending chaos over pending demolition of the Quincy Center MBTA Garage.
Already Quincy Quarry as well as the many thousands who rely on the Quincy Center MBTA station have seen signs of chaos on the horizon as things ramp up for the partial demolition of the long condemned MBTA parking garage over the Quincy Center Red Line and Commuter Rail passenger platforms.
In addition to literally actually confusing signs already in place as documented by Quincy Quincy photographs, chaos at the station has already worsened given that pre-demolition worksite staging has already greatly reduced parking spaces and vehicular capacity in front of the Quincy Center MBTA station.
As such, already merely just private vehicle kiss and go drop off of commuters at this station and then later waiting to pick them up after work has already all but Q's up things at the station to near gridlock during prime commuting hours.
Police details were promised to ride herd on things, but so far none have been seen on the scene. 
Plus, who has ever successfully herded cats?
Regardless, expect Quincy Quarry on the scene to cover this impending story of commuting chaos when demolition of parking garage commences shortly after demolition workers recover from their New Year's Eve revelries.
]]>