<![CDATA[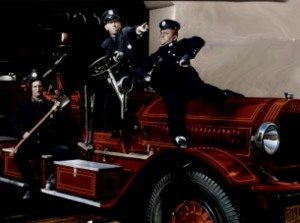 – News and commentary about Quincy from Quincy Quarry News. 
Quincy Quarry Weekly Fish Wrap:  "Fires and Fireworks going up in Smoke!"
This weekend begins the sure to be extended by many Fourth of July holiday weekend given that the Fourth falls on a Tuesday this year.
As such, fire departments everywhere are surely as well as especially on edge for at least the next week or thereabouts.
That and how both the Boston and Quincy Fire Department are coming into a prime fire danger time after both faced recent fires at tinder box construction "podium and stick" style apartment buildings and which have been built all over Quincy and Boston in recent years as well as that even more such arguable firetraps are pending construction.
Quincy itself only barely dodged a bullet at its local podium and stick construction fire site had its fire sprinklers working even if the building itself was in such condition that granting a "temporary occupancy permit" was probably not a great idea given that some still open walls, construction debris refuse piles around this construction site and various other unfinished work.
Boston, on the other hand, had no such luck as an under construction eighty-plus residential unit building across the street from the Ashmont MBTA station went up in flames yesterday.
At point, this fire-stricken building would appear likely to be at least a near total loss as its sprinkler system was not yet functioning even if residents were slated to start moving into the building over the next few days.
Returning to the Q, in yet another Quincy Quarry exclusive and hard hitting exposé, the Quarry exposéd how yet again an expensive new traffic light pole along the Hancock Street Misalignment was whacked and so damaged for a second for this particular traffic light pole.
And, finally, Quincy Quarry covered no just one, not just two, but three separate economic stories.
These stories span from posing the likely causes for an all but inevitable recession to how Governor Baker is mirroring his little buddy's throwing massive incentives funded by taxpayers in an ultimately problematic ploys to spur actually positive development for those other than the so-benefited special interests to a proposal to shut down all but actually bankrupt Illinois and then parse it up among its abutting states.
Unclear at this time, however, is if Braintree would be foolish enough to take back Quincy at a likely great financial cost so as to otherwise only reclaim the bragging rights as the actual name of the town that was the birthplace of three American presidents at the times of their births.
]]>