<![CDATA[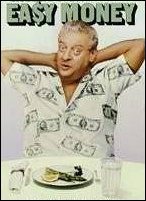 – News and commentary about Quincy from Quincy Quarry News.
Quarry Weekly Fish Wrap:  Slip sliding away to a long holiday weekend!
For the most part, for a change things have been relatively quiet – as well as amazingly so – in the Q.
For example, the latest Koch and mirrors city budget proposal continues to move along towards its eventual approval pretty much as proposed as well as followed by yet another inevitable as well as painful tax increase for local taxpayers come the first of next year. 
Then again, it must be noted there was a pointed dust-up over trafficking in the Q's continued descent into chaos – not that any spending cuts or binding alternative commitments were either imposed or extracted to actually address the underlying problems.
That and what would a week in the Q be without someone with rank taking a personal privilege?
On the bright side, at least this one did not involve yet another Department of Public Works vehicle in an after-hours accident.
And for the Quincy Quarry cute animal story of the week, Goat Yoga comes to Duxbury!
When, however, the City of Quincy might finally follow the City of Boston's lead and so finally bring goats to the Q to cost-effectively as well as ecofriendly graze away the dense undergrowth that chokes Faxon Park, Merrymount Park and other similarly high-risk mugging, brush fire and homeless camp site green spaces remains to seen.
Speaking of unkempt landscaping, Quincy Quarry recently exposed what one can only reasonable assume is an annual spring cleaning graduation time project that has yet to happen. 
Then again, perhaps it is just a case of procrastination which might perhaps actually be completed in time for graduation ceremonies.
And finally, on the national front, the longing limping along Weinergate scandal appears to finally be winding down given that former Congressman and Hillary Clinton Presidential Campaign embarrassment Anthony Weiner has agreed to a plea deal in federal court over charges of inappropriate sexting with a minor.
But Washington scandal fans shouldn't worry as it will surely only be a matter of probably but a short time before yet another yet Washington official finds himself or herself in trouble.
In fact, only who next goes down in flames is the only unknown.
]]>