<![CDATA[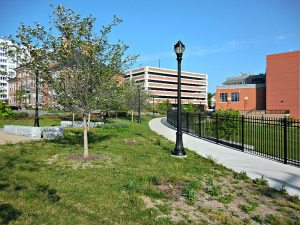 – News about Quincy from Quincy Quarry News.
Quincy High landscaping care and maintenance deserve failing grades on what one can only propery assume are annual spring school projects.
With the school year soon ending, arguably a prime spot for post graduation ceremonies photo ops in front of Quincy High School is an overgrown mess.
Then again, it has long been a mess as well as replete with all manner of dead plants as well as more than a few expensive but now dead transplanted trees.
This, in turn, baits all manner of obvious questions about what to expect – or, to be more correct, not expect – with the landscaping care of Mayor Thomas P. Koch's plans to spend almost sixteen million dollars on his but second phase of his grand plan to eventually spend close to thirty million in total on a but two acre park in front of City Hall.
Quincy Quarry considered reaching out to attempt to discern whomever it is who procrastinating on this annual rite of spring passage spring cleaning, however, the Quarry's City Editor saw no point in ending all but assuredly ignored by both the City of Quincy Building Maintenance Department as well as the City's Park and Forestry Department.
Plus, with it obvious that this green space is on neither departments' to do list, blank faces or fingering pointing at the other city department were only to be expected as well as so would be amusing to see.
Even so, expect Quincy Quarry to monitor the scene for any possible further breaking new developments.
For example, how tall will the weeds be growing this year.
]]>