<![CDATA[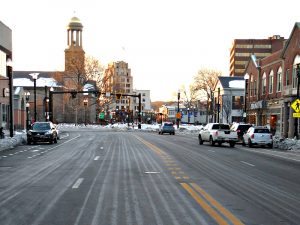 – News about Quincy from Quincy Quarry News
Quincy prepares for a winter storm – but where's the storm?
As the three day weekend was ramping up for this year's St. Patrick's Day beer and other libations bacchanal, the City of Quincy made advance preparations for a modest snowfall over the weekend.
So what if the forecast for this weekend's snowfall has been at least as aggressively downgraded as well as this time publicly by the National Weather Service, unlike Tuesday's storm.
Then again, perhaps the City was operating under "an abundance of caution" in the wake of dropping the plow during Tuesday storm even after it turned out to only drop roughly half as much snow as had at one point been forecast.
In any event, a number of streets were brined on Friday afternoon. 
So what if brine is best applied with twelve or so hours before a snowstorm hits and that a (but, ed.) modest snowfall was then forecast to perhaps hit the Q two days later, not to mention that there were not any obvious signs of brining before last Tuesday's more significant snowfall.
Similarly, City Hall was well-salted.
So much, apparently, for the low-salt diet imposed most everywhere else in the Q.
Similarly, so much also for finishing up cleaning up after last Tuesday's storm.
While out and about for other activities, Quincy Quarry News personnel stumbled upon a number of still less to much less than plowed even but merely somewhat close to the curb.
Fortunately, as well as again, any snowfall of significance over the next few days is unlikely.
Also fortunate, a modest run of seasonable weather is expected during most of the next several days and thus perhaps some of the frozen-hard snow still remaining on a number of local streets might melt away.
Even better, tomorrow is the first day of spring, Opening Day at Fenway is fast approaching as well as that the current extended forecast looks reasonably favorable.
Then again, New England weather is notoriously fickle.
]]>