<![CDATA[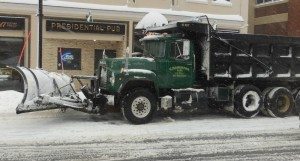 – News and commentary about Quincy from Quincy Quarry News
Quincy Quarry Weekly Fish Wrap:  A Quincy City Hall Snow Job Doubleheader!
While major league pitchers and catchers will not be reporting to Spring Training for another 12 days, earlier this week the Koch Administration put on a double header Snow Job at City Hall this week: Mayor Thomas P. Koch presented the now to mostly be annual State of the City speech during a snow storm.
Needless to say, the bovine byproduct was flying and – as always – Quincy Quarry wisely opted to stack out a place on high ground in the balcony as well as wear hip boots and foul weather gear.
As such, expect coverage in the Quarry of this local feeding at the public trough gala as soon as possible.
Coverage would have come been sooner; however, Dan FlynnFlam's long-anticipated pleading out in Federal District Court for embezzling millions from duped investors overburdened Quincy Quarry's ability to cover all of the breaking badly news breaking badly upon the Q in the Quarry's usual prompt fashion.
In any event as well as a tease for what to expect, Quincy's Old City Hall was festooned with more floral arrangements for his snow job than a wake at the mayor's go to funeral home.
That and how it would appear to Quincy Quarry's fashion editor that even the mayor's "roomy" suit was hard-pressed to effect a proper cover-up.
And on other fronts, the Quarry has exposéd that however much Mayor Koch keeps talking up a pending new and upscale Quincy Center, Bud Light appears to continue be the unofficial beer of Quincy – or at least Quincy Center.
As such, don't be surprised if Quincy Quarry undertakes a spot survey of local recycling bins following this weekend's Super Bowl.
In the meanwhile – as well as always, only Quincy Quarry has the stones to report the local news as it needs to be reported.
After all, Quincy Quarry is Google's top-ranked source for News about Quincy since shortly after the Quarry first started feeding things into the fan a couple of years ago.
]]>