<![CDATA[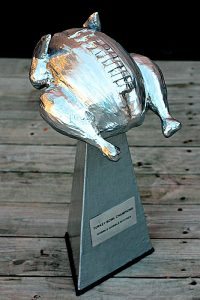 – News about Quincy Sports from Quincy Quarry News 
Quincy Thanksgiving Day Turkey Bowl Game On!
As prognosticated by the Quincy Quarry Sports and Gaming Desk some weeks ago, the North Quincy High School and Quincy High School footballs teams will be facing off on Thanksgiving Day to decide which team is arguably the worst team among the larger high school football teams in the South Shore.
On one hand, the stage was set for this pending turkey of a Turkey Bowl when the North Quincy High School football team was pummeled 8 to 40 last night in Scituate in its second to last game of its so far one and six season.  As North Quincy's only win this season was a relatively close game against the nerds at Boston Latin Academy, one cannot help but wonder what would have happened if North had played Fontbonne Academy this season.
And on the other hand, also playing last night Quincy High continued its unbroken streak of losses this season with an also 32 point loss in its road game against Plymouth North.
While not playing for a title, it should prove interesting to see which team is desperate enough to play well enough to avoid the stigmata of being seen as the worst turkey of a high school football team south of Boston.
Needless to say, expect Quincy Quarry to cover the game as only it does when covering breaking badly bad news in the Q as the Quarry  also hopes to continue to successfully bet on the spread.
]]>