<![CDATA[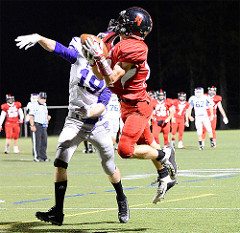 – News about Quincy sports from Quincy Quarry News
Quincy Thanksgiving Day Football Game to Decide Turkey Team of the Year?
With but one win so far this season North Quincy High School losing badly to previously winless Plymouth South yesterday by a score of 7 to 20 and so far winless Quincy High each having but one game left to play before their annual season ending rivalry game, this year's Quincy Thanksgiving Day Turkey Bowl continues to be on track to decide which Quincy High football team is the biggest turkey among South Shore high school football programs.
In its second to the last game of its 2016 season, North Quincy High will be facing Scituate in a road game next Friday.  As Scituate is a perennial powerhouse and enjoying a 4 and 2 record to date this season, one can only reasonably suspect that North Quincy will be suffering yet another defeat.
So far winless this season Quincy High, on the other hand, has a slim shot at a win on the road against 2 and 4 Plymouth North this coming Friday; however, even if Quincy could actually pull of a win, the loser of the North Quincy High/Quincy High Thanksgiving Day game would still be the biggest loser among both teams' respective leagues.
As such, expect Quincy Quarry to continue to follow this developing local sports story as well as report on it as might be warranted.
]]>