<![CDATA[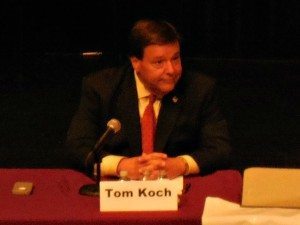 – News about Quincy from and commentary by Quincy Quarry News 
Quincy Quarry Weekly Fish Wrap: City Hall's Q-up's Keep Hammering the Q.
This past week was a doozy for breaking badly bad news for the Q even by Quincy standards.
For starters, the Koch Maladministration's ridiculous plan for redoing the Quincy Center MBTA station was finally as well as officially acknowledged as rejected by various state entities, however tersely.
Equally ridiculous was the spin offered up by Quincy's peerless mayor that these rejections were not his fault.
So what – apparently – for the fact that his long as well as incessantly pressing his ridiculous plan so ended up moving a redo of the station back by at least several to as many as a handful of years – or more.
Perhaps the most two amazing things about this decision was that even the T could both spot a bad idea as well as then reject it.
Now, however, who the Q knows when the T will be demolishing the parking garage over the station that was condemned and then closed over four years ago.
More importantly, absent a new Quincy Center MBTA station, such takes a huge bite out of the Koch Maladministration's also ridiculous and so-called transit-oriented plan To Make Quincy Center Great Again.
So what if most locals would be more than ecstatic with finally just seeing the Hancock Street Misalignment Project completed.
Fortunately, locals were at least able to enjoy a bit of levity at Mayor Koch's expense.
Apparently, he is the only one who has failed to noticed that he was spoofed in drag on last Sunday's episode of The Simpsons.
So what if the dead giveaway was that their hair was perfect. 
"Aaoooooo!"
]]>