<![CDATA[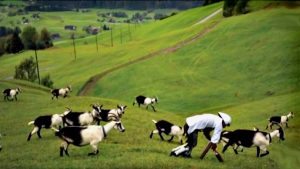 – News from elsewhere covered by Quincy Quarry News
Goat Man Thomas Thwaites shares the 2016 Ig Nobel Prize for Biology with fellow Brit as well as surely also eccentric Charles Foster " … who was honored for living in the wild as, at different times, a badger, an otter, a deer, a fox, and a bird."
While this year's Ig Nobel Prize winners were formally awarded this week at Harvard University, the honoring of Goat Man Thomas Thwaites was brought to the attention of Quincy Quarry by Goat Citizen Journalist The Tewksbury Goat.
Man who lived as Alpine #goat wins Ig Nobel prize. #Spoof #TewksburyGoat pic.twitter.com/7JdrpXZ1F9

— Tewksbury Goat (@FreeMyGoats) September 24, 2016
To find out about the other 2016 Ig Nobel Prize winners, read here. 
For example, the posthumously honored winner of this year's Ig Nobel Prize for Reproduction for developing a testicular sling that is said to be an effective means to effect male birth control without the use of any medication or surgical means.
To find out more about Thwaites' research, view this video
and this one.
https://youtu.be/-2T7X9kNHLc?t=29
]]>