<![CDATA[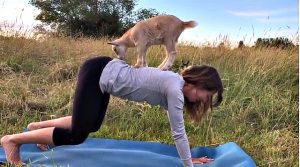 – News from elsewhere covered by Quincy Quarry
Goat Yoga is the latest exercise craze in Oregon.
While Quincy has more than its share of weird news, exercise is not something much practiced in Quincy – at least not by many of the denizens inside Quincy's City Hall.
As such, Quincy Quarry had to reach across the country to cover a story about the Goat Yoga craze in Oregon.
And yes, not even the merry pranksters at Quincy Quarry have a Q about what the Q is going on in Oregon other than it is only fair to note that unrestricted use of marijuana by adults has been the law in Oregon for a bit over year at this point.
]]>