<![CDATA[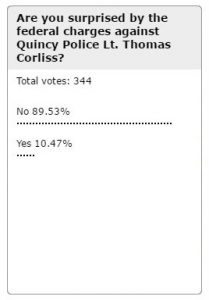 – News about Quincy from Quincy Quarry News    
Quincy alleged double dipper arraigned in federal court.
As apparently came as no great surprise to anyone, the alleged Quincy Police Department detail double dipper was hauled into federal court yesterday to face charges.
The only real surprise around the Quincy Quarry newsroom is that no one in the newsroom expecting indictments to be handed down so soon by a federal grand jury.
In his opening court appearance, the alleged double dipper was charged with a likely to prove unlucky for him thirteen counts, twelve of which were for mail fraud and one for embezzlement of federal funds provided to the Quincy Police Department.
The now-indicted police office pleaded not guilty to all charges.
At this point, no trial date has been announced.
As things are early in the process, Quincy Quarry readers should both anticipate the likelihood that additional charges may be filed against the defendant as well as not be surprised if other parties face at least embarrassing revelations as to their possible entanglements with this case.
While Quincy Quarry knew better than to waste its time trying to secure comments from city officials about the arraignment, all manner of enlightening comments can be read here in the South Shore Broadsheet.
Expect further coverage to be provided by Quincy Quincy as circumstances mostly likely continue to break badly for both the alleged double dipper as well as for those tied to this long ongoing specific instance of bad news in the Q.
]]>