<![CDATA[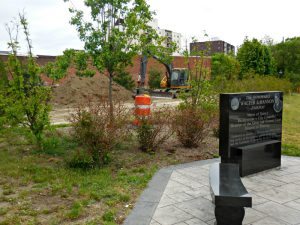 – News about Quincy from Quincy Quarry News   
Quincy Center city property landscaping clean up!
Given Quincy Quarry's guiding principle principle of balanced and fair coverage, it is thus behooved to report that a City of Quincy green space in Quincy Center was actually for a change cleaned up as well as made more presentable.
Unfortunately, given prior neglect, it was apparently decided that two straggly trees – or perhaps they were shrubs – had to be removed.
Even so, as well as yet again striving to provide positive coverage, Quincy Quarry must note that some much needed public parking spaces in parking sparse Quincy Center were concurrently added during this city green space clean up.
Unfortunately, the parking spaces were added on the far end of Quincy Center instead of where parking is far more desperately needed in and around Quincy Square in the center of Quincy Center.
In short: give some back after first taking away even more.
Further only fair to note, nearby are not just one but rather two long knocked sideways city street lights.
Similarly, three trees have been taken out by motor vehicles and other ways destructive along this very same run and side of Hannon Parkway over the course of the past year or thereabouts.
To date, however, none of the three trees have yet to be replaced.
After all, what would the Q be without Q-ups.
]]>